Reliable asphalt paving service since 1979. We are not just paving roads. We are paving the way.

Over 30 years of experience providing guaranteed quality asphalt paving services throughout Wisconsin.

Asphalt Contractors protects and makes your asphalt look like new with only the finest workmanship and precision.

Minimize subcontracting overhead – we manufacture top-quality asphalt ourselves.

We can partially or fully remove the paved surface, then use the reclaimed asphalt to re-pave.
Excavation
&

Site Preparation
New construction excavation, landscape grading, drainage ditches, interstate highways and contouring.

Residential
&

Commercial Concrete
We build concrete driveways, walkways and parking lots, including features like curbing and gutters.Concrete and asphalt go together like two peas in a pod. Commercial or residential we offer concreted services all around.

We are your full service paving contractor. Our specialty services include everything from guard rail to geotextile paving fabric.
Asphalt Contractors, Inc. – Your Full Service Paving Contractor
Asphalt Contractors Inc. has been providing Wisconsin with high-quality asphalt services for over 30 years; our contractors pride themselves on outstanding work and client satisfaction. Over the years we have accumulated and perfected a large variety of services such as concrete, seal-coating, drain-tile, sewer work, paving, striping and many more. Give us a call to learn more about what we can do for you!
When you need asphalt paving services, call Asphalt Contractors Inc. We've spent decades becoming experts in every process related to asphalt – from crushing to pulverizing and even manufacturing. Offering every asphalt service you may need has allowed us to cut costs for our clients and deliver the highest quality results possible. There is no asphalt paving project too large for our professionals, so choose Asphalt Contractors Inc. when you need a new driveway, parking lot, or pavement of any kind installed. Our expertise is not limited to asphalt alone; we also provide incredible residential and commercial concrete services, installing walkways, driveways, and parking lots.
Get a free estimate on your asphalt service needs.
We have only top notch equipment ensuring efficiency and quality.
Licensed and Insured with an A+ Rating on the BBB year after year.
We have all our own equipment and produce our own materials minimizing cost.
START TO FINISH SATISFACTION
From detail oriented project planning to managing and completing – we have you covered.
Founded in 1979, our asphalt team has unrivaled experience and industry passion.
We keep you well informed and are always available for questions and concerns.
Offering Asphalt Maintenance Services in Wisconsin and Illinois
We are a full service asphalt paving contractor that covers southeast Wisconsin and northeast Illinois, performing a large spectrum of services and working with both residential and commercial customers. As leaders in the asphalt industry, no one understands the importance of asphalt maintenance better than our contractors. You made a worthwhile investment when choosing Asphalt Contractors Inc. to pave your driveway or parking lot – let us ensure you get the most use out of your pavement by keeping it in peak condition. We'll design a maintenance program that suits the unique needs of your pavement; patching, crack filling, and seal coating your asphalt to prolong its life and help you avoid repaving. Parking lot striping is also included in our commercial asphalt maintenance services.
Contact Asphalt Contractors Inc. to schedule asphalt maintenance in SE Wisconsin.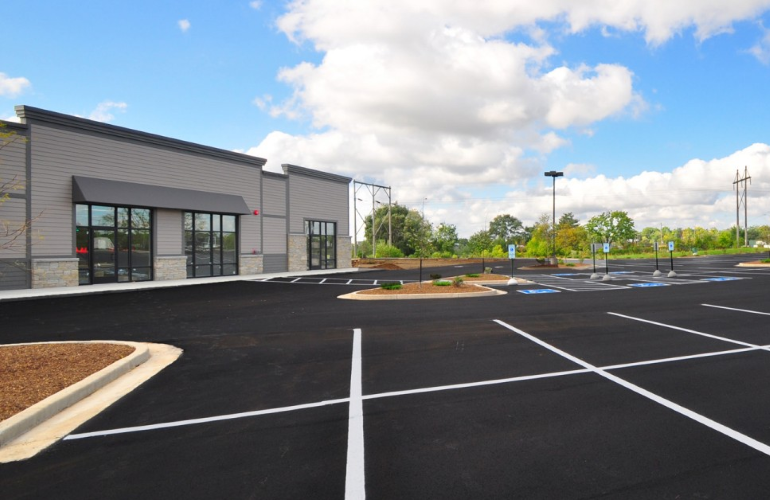 The First Choice for Asphalt Services in Milwaukee
The best choice for concrete and asphalt services in Milwaukee is Asphalt Contractors Inc. A reliable and vast supply of resources and experienced contractors means we can meet the growing demand for good asphalt work in Franklin, Oak Creek, West Allis, Wauwatosa and the surrounding areas. We've worked on a variety of asphalt and concrete projects – school running tacks, mall parking lots, and custom residential walkways are just a few of them. Take a look at our gallery and project portfolio to see some of our work for yourself. Don't hesitate to give us a call – we'd love to discuss your next project and give you a free estimate.