Planning
&

Project Management
From start to finish, we plan, manage and complete your asphalt project with attention to detail.
Excavation
&

Site Preperation
New construction excavation, landscape grading, drainage ditches, interstate highways and contouring.
Top quality equipment for milling and pulverizing to provide a long lasting, smooth driving experience.
Over 30 years of experience providing guaranteed quality asphalt paving services throughout Wisconsin.
Experienced crew offering onsite crushing with the capabilities for up to 3,000 tons per day.
Top quality asphalt manufacturing to minimize the cost and remove the need for an outside source.
Residential
&

Commercial Concrete
We build concrete driveways, walkways and parking lots, including features like curbing and gutters.Concrete and asphalt go together like two peas in a pod. Commercial or residential we offer concreted services all around.
We are your full service paving contractor. Our specialty services include everything from guard rail to geotextile paving fabric.
Asphalt Contractors protects and makes your asphalt look like new with only the finest workmanship and precision.
Full-Service Asphalt Contractors in SE Wisconsin
Asphalt Services You Can Rely On
Asphalt Contractors Inc. is your source for high-quality asphalt services in SE Wisconsin and northern Illinois. There are a number of reasons to choose our contractors for your asphalt needs – high-grade equipment, 35+ years of experience, competitive pricing, meticulous project planning and management – most importantly though, a long standing success with client satisfaction that has built our strong reputation for quality. Take a look at our gallery and past projects to see the results of our services first hand. When Asphalt Contractors Inc. is on the job, every dollar spent is a worthwhile investment.
Get a Free Estimate on your asphalt needs today!
Asphalt Paving, Maintenance, Crushing, Manufacturing & More
When it comes to asphalt, we do it all – manufacturing, paving, maintenance, recycling, and more. So whether you're pavement needs are small – like seal coating and asphalt patching – or large – like parking lot paving or custom crushing; we have you covered! Our asphalt services include:
Asphalt Manufacturing – To cut costs for our clients and guarantee a quality end product, we've taken control of every process our asphalt services encompass, including manufacturing asphalt ourselves.
Paving – Asphalt Contractors Inc. is the best choice for asphalt paving services in SE Wisconsin. We're capable of paving driveways, parking lots, and roads of all sizes. Give us a call to find out how we can help on your next asphalt project!
Asphalt Maintenance – We're happy to manage your residential and commercial asphalt maintenance needs too. Our maintenance services often include crack filling, asphalt patching, seal coating, and striping.
Milling & Pulverizing – We also play our role in preserving the environment by recycling asphalt. One way we do this is by recycling the old asphalt on repaving jobs. We will mill the old surface area and then pulverize it into an aggregate that can be incorporated into the base of your new asphalt. If we do not pulverize the asphalt waste onsite, we will transfer it to our crushing site for recycling.
Custom Crushing – Our contractors can bring mobile crushing equipment directly to your jobsite to crush and recycle asphalt and concrete waste, or we can transfer your waste to our Union Grove or Milwaukee custom crushing facilities.
Milwaukee's First Choice for Asphalt & Concrete Services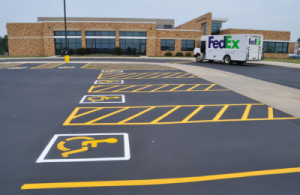 Whether you're installing a walkway, driveway, or road – if you want the best asphalt and concrete services Milwaukee has to offer, you want Asphalt Contractors Inc. on the job. We can beautify your home with a long-lasting, perfectly installed concrete sidewalk. Looking to enhance your storefront and increase property value? May be you're sick of customers and employees complaining about potholes. Our asphalt and concrete contractors are the solution! We provide outstanding paving and sealing services throughout SE Wisconsin and the Milwaukee area, including Wauwatosa, West Allis, Hales Corners, Franklin and more.
Contact Asphalt Contractors Inc. for asphalt services in SE Wisconsin.